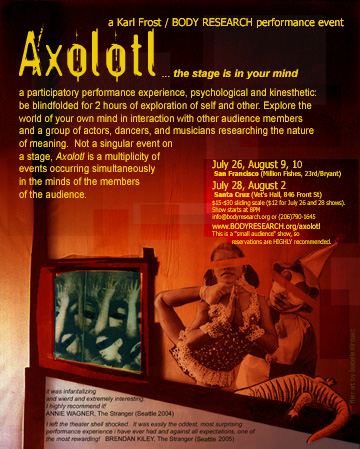 axolotl, n  (from the Nahuatl language): blind albino larval salamander of mountain lakes and caves of Mexico that usually lives without metamorphosing
It was infantilizing and weird and extremely interesting. I highly recommend it.
ANNIE WAGNER, The Stranger (Seattle 2004)
I left the theater shell-shocked. It was easily the oddest, most surprising performance experience I've ever had. And, against all expectations, one of the most rewarding.
BRENDAN KILEY, The Stranger (Seattle 2005)
It was strange, funny, pleasant, and scary …the eye opening darkness of Axolotl.
SHAHAR SHILOACH, NRG (Tel Aviv 2005)
Axolotl
A participatory performance experience, psychological and kinesthetic: be blindfolded for 2 hours of exploration of self and other
directed by Karl Frost
 In Axolotl, you are invited to place a blindfold over your eyes and spend two hours interacting and exploring with each other and a group of actors, dancers, and musicians.  There are no rules per se, other than that you are asked to keep your blindfold on until asked to remove it.  The piece is not a singular event on a stage, but a multiplicity of events occurring simultaneously in the minds of the members of the audience… an experience of movement, touch, theater, conversation, soundscape, environment and interpersonal interaction.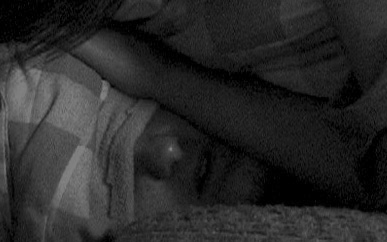 The performers come to the space with a shared culture of investigation, rather than a specific pattern of experiences to give the audience.  The audience interacts with each other while the performers offer possibilities and challenges, kinesthetic and psychological.  While the event is improvisational, there is a specificity to the exploration arising out of the performer's ongoing research into the question, "What is meaningful experience?"  One could call it an improvisation with an intuitively apprehended search for meaning. What arises is a co-creation amongst those present…
Before entering the space, you are asked to read an invitation … a constantly evolving text, which helps set the tone for the evening.  After reading the text, you are blindfolded and led one by one into the space.
Things happen.  You make choices.  These choices bring different results in interaction with the choices of the other participants and performers and with the physical space in which they take place.  There is no secret plan — performers and participants follow what seems interesting in the moment as opposed to being bound by a schedule or set of specific experiences. While we learn from each show and accumulate a history of possibilities that we can pull from during the show, these by no means restrict the range of the performers' choices. Our rehearsal process is one of questioning as opposed to arriving at set answers. As performers, we look at a sense of "meaning" in experience, nameable or not. Anything we do discover in performance or rehearsal is only held tentatively and as a source of further questioning, rather than as an answer that we hope to give.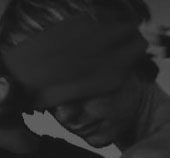 What to expect? 'depends on what you bring. In the space, there will be 40 to 60 others bringing their own curiosities and histories. There are a lot of possibilities.
After approximately 2 hours, you will be asked to remove your blindfold. Following this, there will be a structured feedback session of 15 to 20 minutes, after which, you are invited to go or stay and hang out informally with the performers and other audience members, as you like.
Note: You are asked to not remove your blindfold for the length of the two hours. If you do remove your blindfold, you will be asked to leave. Because of logistics of storing people's bags, you will not have access to these until after the show.
Previous runs of the show have occurred in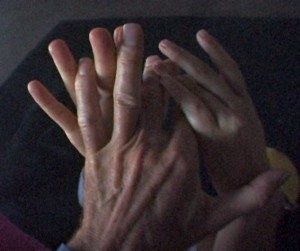 January/February 2004 (Seattle)
July 2004 (San Francisco, Oakland, Berkeley, Santa Cruz)
August/September 2004 (Seattle)
April 2005 (Tel Aviv, Jerusalem)
October/November 2005 (Vancouver (BC), Port Townsend, Seattle (WA), Portland, Eugene (OR), Arcata, San Francisco, Berkeley, Santa Cruz, Santa Barbara (CA))
August 2006 (with guest artist, Felix Ruckert) (San Francisco, CA)
August 2007, (San Francisco and Santa Cruz, CA)
January-March 2011, (San Francisco and Davis, CA)
Plus lab versions of the work in Helsinki (2004) and at the Burning Man Festival (2005, 2006)
Purposefully, there is no video or photographic documentation of the performance.  This is to prevent the illusion of understanding the piece from a visual document. The photos on this web site are rehearsal photos and are not meant to be representative of the actual experience.
Click here for