… something startling but strangely beautiful to behold .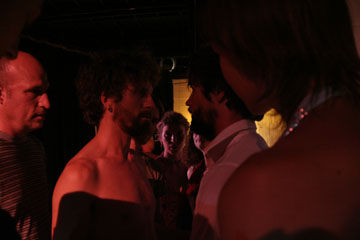 Molly Rhodes, SF Weekly (San Francisco, August 2007)
a performance work directed by Karl Frost
exploring connection, isolation, behavioral rules, and physical honesty
mixing installation performance with audience interaction
—————-
This work is the next step in the work begun with Axolotl, blindfolded participatory performance. It shares with this work both a formal structure which allows for audience interaction and personal exploration and a focus on the elusive nature of "meaningful experience". As a participatory performance work, each audience member through the choices they make (physical and mental), creates both their own view of the piece but also psychological context and situation within the piece. Each evening, there is not just one piece, but a multitude of interlocking pieces created.
In this second piece in the series, we see each other. We provoke and are provoked into reaction and specific questions are raised around relationship, the buried codes of behavior we live by, the nature of feeling and thought.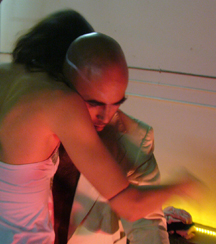 In proximity to and distance from an "other", we sense inner voices of reaction and memory, below the level of conscious thought.
Proximity is a very direct investigation of personal relationship, closeness, isolation, privacy, exposure, and the emotional subvoices that speak inside of us in relationship to other.
What are they telling us?
Proximity combines both frameworks of audience interaction and more traditional moments of stage/proscenium performance where the audience gets to view as a fly on the wall moments of peculiar intimacy explored in the bodies of the performers, attempting to remove the social mask.
The Structure –The audience is invited into a party/salon, free to socialize and wander the space. The floor is marked out with different zones, carrying different "rules of behaviour". Some zones are for those who wish to keep a greater social distance from the happenings of the salon, watching from a distance the party as a proscenium. Other zones are for those who want to explore the play of social proximity and risk involvement. Screens break up the space further so that it becomes necessary to move through the space to see more of the action, and there is no one view in the space where everything can be seen.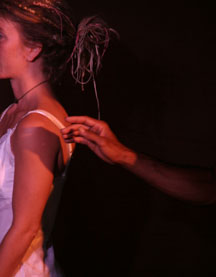 Some of the guests at this party exist in a world seperate from the others… the Performers. The Audience is free to wander the space exploring different views of the Performers, who are involved with the intimate exploration of emotional subtexts and kinesthetic relationship… sometimes the simple pleasure of touch, sometimes diving deep into the immediate experience of personal shadows. Gradually the separation between the world of the Performers and the Audience members who choose to enter their territory blurs. Open improvisation of personal relationship mix with specific offerings of psychological investigation as the party moves towards its end.
Performed July 27 – August 12, 2007 in San Francisco (at 1800 Illinois) and Santa Cruz (at 418 Project), California
Performers: Isabelle Fortier, Isabella Kirouac, Sasha Klapkin (Canada), Elska Zeidle (Germany), Natalie Heller (Cyprus), Munir Rashid, Cammie Kelly, Kevin Dockerty, Karl Frost, Collin Leach (US), and guests
Soundscape by Isabelle Kirouac