Contact Improvisation with Karl Frost in Berlin
Soft Power, Physical Listening, and the Creative Exploration of Sensation and Process.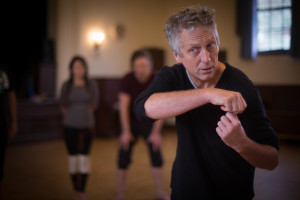 When: March 4, 12:00 – 18:00
Where: Lake Studio, Berlin (Scharnweberstrasse 27)
Registration: See below. Register early and pay less.
This one-day workshop for intermediate and advanced dancers will be an organic mix of inner technique, outer form, and explorations of sensorial aesthetics.  Short descriptions below.  Follow links for more details.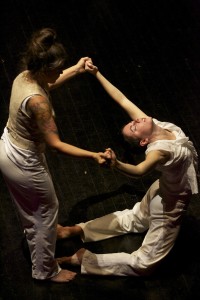 Inner Technique: much of the workshop will focus on the exploration of subtle functional awareness, becoming aware of and letting go of subtle reactivity that obscures our ability to attend to find details of sensation and body mechanics.  This is based on the Passive Sequencing work, which Karl has been exploring and using as the basis of his performance projects for over 25 years.  By slowing the mind, we accelerate awareness and allow for more movement intelligence and presence
Outer Form: Interesting partnering movement vocabulary and pathways give a framework for exploring body mechanics, subtle listening, and proprioceptive art.
Sensorial Aesthetics: With an open mind, we use the base of technique to explore the art-making of sensation and process.  We see contact as a collaboration in the molding of experience. Accepting lack of control, we gain influence.
This is a short workshop pulling from a large body of work: The Human Contact Project.
—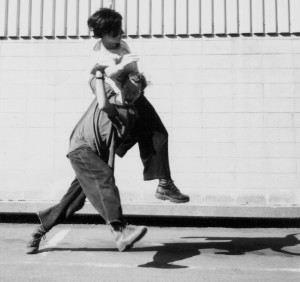 Karl Frost has been practicing and teaching contact improvisation and related work since the 1980s in California and has taught in more countries than he has fingers and toes. His physical practice in contact improvisation is influenced by contemporary dance, release technique, internal martial arts, Alexander technique, and capoeira.   He has distilled much of his internal practice into the Passive Sequencing work. His post-dramatic performance work is rooted in the physically felt experience, heavily influenced by somatic psychology explorations, as well as the early paratheatrical work of Jerzy Grotowski. His performance projects run the range from traditional staged work to highly interactive experiences exploring and instigating audience agency.
He is also an anthropologist, with both an MFA in Dramatic Arts and PhD in Ecology from UC Davis. His PhD work focused on the cultural evolutionary dynamics of prosocial ritual and physical practice. He has recently relocated to Leipzig for research and visual ethnography at the Max Planck Institute for Evolutionary Anthropology, in the new Department of Human Behavior, Ecology, and Culture.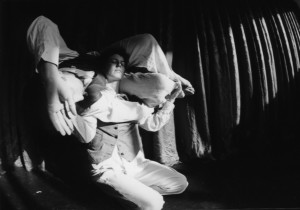 As he is landing in Germany and getting to know the local performance and contact improvisation scenes, he is brainstorming a new group interactive work exploring multiple modes and meanings of physical contact.
Fees: 40e to 70e, depending on when you sign up.
Pay by February 11: 40e
Pay by February 18: 50e
Pay by February 25: 60e
After February 25: 70e
Limit 20 participants
To register:
Pay via paypal to info@bodyresearch.org
Pay using the paypal button (on the web page, below)
Send money via bank transfer to Karl Frost or Jenny Doell (write for details)
Give cash to Jenny Doell in person
For more information, contact Jenny Doll (jenny.doell@freenet.de)